9/11/2015

ASINspector Review Amazon Data Puller
Now this update comes about a week after owning ASINspector and using it. BLOWN AWAY!
This thing is unbelievable in what it can do for your Ecommerce business. For a more detailed demo – go to the "ASINspector Review" post on this site.
7.24.2015 – $1 Trial Is Back!
I
f you've been contemplating on investing in eLister Pro or not, now is the time! The owners of this eBay posting product have all agreed to lower the price for a time to allow you to take it for a test drive. I think you should do it. I still use #elisterpro to post on eBay as well as Bonanza. More on Bonanza at a later time.
6.8.2015 – What DS Domination Is All About
Now Parrish and Nikki are two of the most open people I've met in a long time. They shared openly what has gotten them to the success level they're currently at. I was impressed with my entire trip to Dallas not to mention the super leaders directing DSD down this continued road to success. This hangout will answer all the questions you have. Now you don't have to rely on 3rd party information.
5.28.2015 – DSD 2.0 Does Dallas
We are all here this weekend to not only make life changing decisions but to push our businesses to where they should be. I'm personally here to confirm the decision I committed to in December 2014. (You can find that video somewhere). Flew in a day early to get my mind right and explore Dallas a little.
If you decide to follow me on this journey, I assure you that I will help you as much as I can with what I've learned to this point about online marketing.
I'm also here to learn more about automation. Automating my business as much as humanly possible because of my personal commitments to my son Michael. You need to make up your own mind about whether DSD 2.0 is the right direction you should go. I cannot do that for you. -No one can.
4.14.2015 – eLister Pro Approved By eBay
Well today eLister Pro reached a major major milestone in it's short life-span. As a matter of fact, the news I just got from one of the co-owners Jacque Morris wasn't even on my radar.
You have to understand the magnitude of what I'm about to reveal here…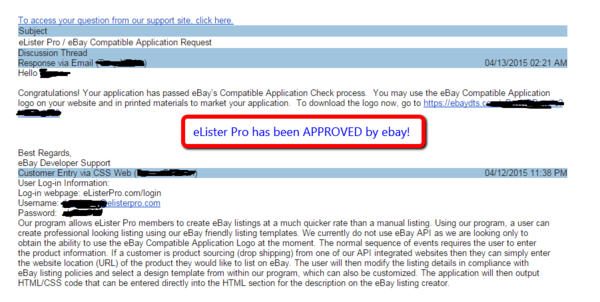 Take a close look at the above image carefully. If you're already familiar with eBay, you may be able to appreciate how MEGA this milestone is., but if you're unfamiliar with dropshipping, then reading this update may have no significance to you whatsoever. At least not at this moment.
Not only is eLister Pro proven to be a great tool just on those grounds alone., and not only has this listing software been working without much of a hick-up since it launched. But the owners have been in constant contact with eBay corporate to make certain their product was performing above eBay standards.
The news came just yesterday that eBay has Approved eLister Pro! Well not quite fully, but the application certainly has been accepted and approved at this point. This will place a very bright spotlight on eLister Pro for all the e-commerce world to see. I suspect that ELP will begin to become far more popular than the 1700+ members only Facebook group.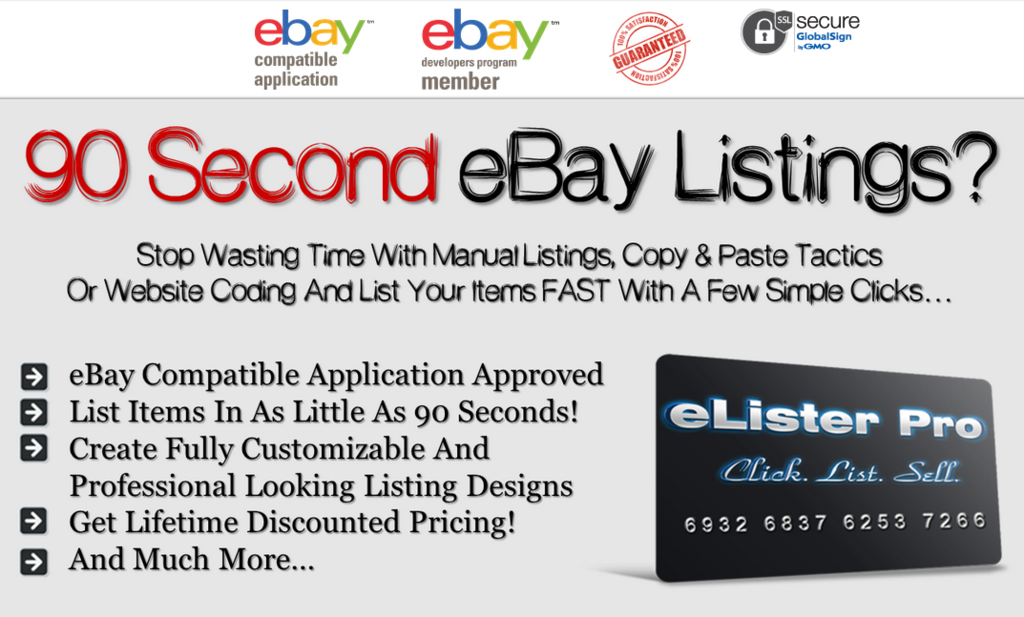 I'm excited about this because of the opportunity to be apart of something great.
3.22.2015 – The Introduction To EZ WIN
Yesterday or should I say, last night – there was a pretty big announcement made by one of the co-owners of eLister Pro. On that webinar we were informed that a new product addition was just added called EZ WIN or EZ Walmart Item Number. It works via "bookmark" the same as EZ ASIN works.
This new software product sources directly from the Walmart website and essentially scrapes all the item numbers from the page you're on. Once again, this saves an extreme amount of time when doing product research.
What I suggest you do when using this new eBay listing tool is to pin-point a specific niche you want to work in for that listing session., I mean drill down deep to all the particulars you're wanting to go after – then click the EZ WIN bookmark to pull as many pages of item numbers as you wish. From there it's just a matter of PULL, PASTE, LIST!
To see EZ Walmart Item Number Finder in action…
I felt the need to add this Update to eLister Pro page simply because it would be easier to navigate this site for the most recent changes or enhancements to this eBay listing tool. Already, since I've owned this product there have been one or two announcements for upcoming updates so it only makes sense to provide that information on it's own page…
3.14.2015 – It's Here!
I know its
Saturday
and you are having tons of fun today, so I'll be really brief I promise.
Today Amazon (UK) & Amazon (CAN) went LIVE in the back-office of ELP.,
Also the supplier price & list price feature hasbeen added on archived listings. (see pic below)
3.11.2015
I have been alerted on new improvements to eLister Pro that will be occurring this week in fact. The introduction of new suppliers and an international twist. Here they are:
Amazon (United Kingdom)
Amazon (Canada)

The above suppliers are scheduled to be LIVE in the back office of ELP by Friday March 13, 2015.
The OTHER big news is Wal-Mart has just been added to the back office of the eBay listing and inventory software. Dropshipping worldwide has just become easier because of these two very huge add-ons. One caveat though, this one is still in it's Beta version so once you dive into the inside of eLister Pro – you will want to try this part of the tool out and provide feedback to the support team. This will help them fix any kinks or bugs that may pop up.