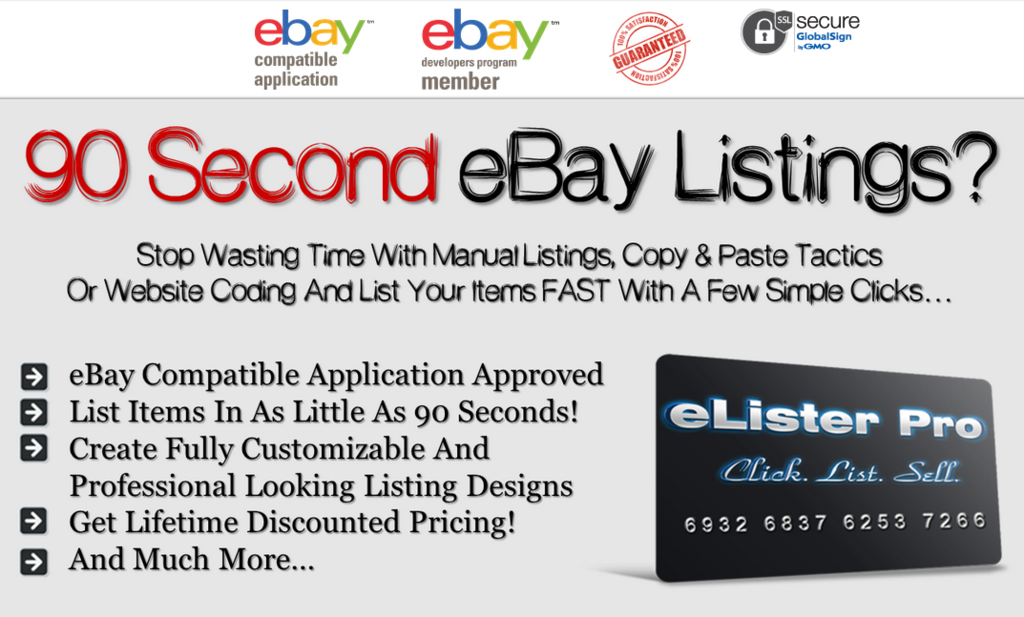 This review you're about to read is real. I didn't add the final post until I had a chance to actually test eLister Pro and work with it for a while. Continue reading to see what my conclusions are. If you already know you need eLister Pro…
I recently started my journey with DS Domination in December 2014 because I wanted to be in the position to help more people online. I was already with a great company and team but my success wasn't easily transferable to others. So I made the transition over to DSD.
It was fired up to get started in my now company but after I started getting through all the training videos and started posting., I didn't realize at the beginning how long it was taking me to get up one lousy listing. Then my buddy Craig L. showed me the success he was having and shared eLister Pro with me. Back to this in a minute…
ELP Testimonials
I ran into Craig recently in Atlanta Ga., at the last Unit of Prosperity event and he told me how much he cleared in December and this past January. (I was there just checking things out). I was like – that's awesome man! We took this pic and I knew I had to pick his brain when I got back home to find out how he created those results.
He told me he was using this software called eLister Pro. We were on Facebook so I immediately told him to send me his link. I looked at it as soon as I had the chance and was pretty much sold on at least trying it out. My thoughts were, if this thing will help me post faster, that's all I need to know.
So Craig and I jump on a private Google Hangout and we discussed in detail what this thing is helping him do. I ask question after question even after I knew I was going to buy it anyway.
 What Do You Get With ELP?
Product Purchase – There's not a real need to keep track of asin's, you can purchase the sold item from inside eLister Pro
Saves You Crazy Time – Right off the top the ELP software will help you collapse time frames.
Copy Protection – makes it impossible to copy and or research your description to reveal who your supplier is.
Embedded Youtube – You now have the option of embedding a Youtube video inside your product description which is something I haven't seen anywhere else.
Multiple Images – eLister Pro pulls product images direct from the supplier (usually same ones from Amazon)
90 Second Listings – Now I'm not even gone lie, I ain't this fast, yet… BUT it can be done nonetheless.
Pro Templates – I'm really starting to like my professionally designed eBay listings. Before I didn't concern myself with templates but now that I got them, I going to keep using them.
 
 Likes:
Right of the top, I gotta tell you the best part of this product has to offer in my opinion is the amount of time I am saving with my postings! I get bored easily and I honestly don't want to sit at my computer for a whole hour only to get up 3 listings.
I love the EZ ASIN bookmark. Listing 10+ items per hour won't be possible without it.
Probably second best thing I like is the way my listings look. The templates are cool.
Dislikes:
I don't like it when I copy and paste my list of keywords into eLister Pro the stack vertically and not horizontally. This being the case, you're not able to see you keywords while optimizing your title without having to scroll down your list of keywords which adds time to the process.
Not enough people know about this product – he*l I found out about it somewhat by accident. The buzz is picking up now though.
Final Thoughts:
I've posted several proof videos and linked to others on how eLister Pro is bringing eBay success to many. I even posted my real results listing 10 products in under an hour. On top of that – the very first item I posted sold 3 days later at full price. Then I found the same item on a different website for $149.99 and not the $250.00 it was going to cost me from the original site.
If you took the time to read through this entire review, you may already know which way I'm leaning for this new software. Your instincts would be right, because I am going to recommend this tool for anyone posting on eBay from Amazon.
The reason I can endorse eLister Pro is because I have personally tested and proven (to myself first) and had success fairly quickly from date of purchase. This review your reading right now is from an actual owner of the product you're considering buying, and not from someone trying to make a quick affiliate commission on a hot product.
That's not the purpose of this site. The purpose is to provide and unbiased product review for those searching for a serious review from someone who literally has done their homework.
You should have plenty of information at this point to know whether eLister Pro is for you or not… If you feel it is for you…
Be sure and bookmark this site so that you can quickly revisit this site for current updates.